I want to start a weekly post of inspirations. What a great way to start the week!
PRAISE:
(scroll down to the bottom of my blog and pause the music player before watching the video)
God in my living
There in my breathing
God in my waking
God in my sleeping
God in my resting
There in my working
God in my thinking
God in my speaking

God in my hoping
There in my dreaming
God in my watching
God in my waiting
God in my laughing
There in my weeping
God in my hurting
God in my healing

Be my everything.
"God's there, listening for all who pray,
for all who pray and mean it."
Psalm 145:18 (The Message)

"I know the Lord is always with me.
I will not be shaken, for he is right beside me."
Psalm 16:8 (NLV)
This week, I want to start really focusing on God always being with me. It's a concept I know to be true, but is simply hard to grasp. I want to learn how to always be praying and to feel God with me, instead of feeling the need to seek and find Him.
CAUSES:
I have known about
The Uniform Project
(click the link for more information), for a while now but I found it again today and it really intrigued me. Basically, founder Sheena Matheiken decided to wear the same dress for an entire year, using accessories (and not buying anything new) to make the daily outfits look creatively unique. What a challenge! She created an international online following and used this "fame" of sorts to draw attention to her passion to support the
Akanksha Foundation
, an organization dedicated to not only providing education to kids that otherwise wouldn't receive it, but to instill a sense of self esteem and values that will enable them to use their education to better their lives as well as the world around them. To date, Sheena has raised $103,374 which equals 287 kids placed in one of the Akanksha schools. What she has done, through an extremely creative and fun process for her cause is so incredibly inspiring. My heart is filled with passion to seek justice for those trapped in the human trafficking system and Sheena's story has inspired me to brainstorm creative and unusual ways to not only spread awareness, but to also make a difference.
A very simple step I made today was to sign a petition on Change.org and emailed Sen. Leticia Van de Putte of San Antonio to fund shelters for the victims of sex trafficking that will very unfortunately be trafficked to Texas because of the Super Bowl in Dallas. Please join me in this cause by signing the petition
here
.
BOOKS: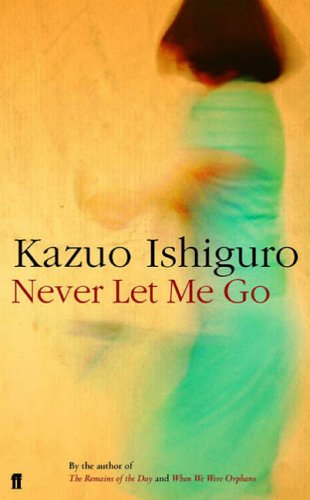 I am about to start reading the novel,
Never Let Me Go
by Kazuo Ishiguro. It has been adapted into a film of the same title but it has not yet been released. What drew me into this book is the fact that my favorite actress, Carey Mulligan, will be starring in the film adaptation. But, what really excites me about reading the novel is Michiko Kakutani of
The New York Times'
review provided below.
A Gothic tour de force.... A meditation on morality and lost innocence: a portrait of adolescence as that hinge moment in life when self-knowledge brings intimations of one's destiny, when the shedding of childhood dreams can lead to disillusionment, rebellion, newfound resolve or an ambivalent acceptance to a preordained fate.
If this novel is half as good as it's review, then its going to be a phenomenal read.
POETRY:
I am currently on a little Emily Dickinson obsession: enjoy.

If I can stop one heart from breaking,
I shall not live in vain:
If I can ease one life the aching,
Or cool one pain,
Or help one fainting robin
Unto his nest again,
I shall not live in vain.
FILM:
I have been dying to see Blue Valentine ever since I saw the very first preview. It stars Ryan Gosling and Michelle Williams. I would tell you what it is supposed to be about but I have tried very hard to not read any reviews online since they tend to spoil the movie. All I know is that it has been named one of the best movies of the year (it was released December 29, 2010), and its a beautifully filmed dark and charming story about an unraveling marriage. AH. I have been counting down the days until it opens to theaters in Austin and this Friday at the Alamo Drafthouse downtown is it! Sounds like I have a date this Friday to be looking forward to :)
FASHION:
All I seem to wear are greys, browns, blues, and occasionally olives and muted purples. I want to branch out. Thanks to
Chloe's 2010-2011 trends
, the color I am being drawn to is red. Red's in accessories. Red shoes, belts, bags, jackets, lipstick, headbands, etc..
ART:
I love art that has not only a meaning, but a purpose to it's meaning. I found that in the
You Are Beautiful
project.

"You Are Beautiful is a simple, powerful statement which is incorporated into the over absorption of mass media and lifestyles that are wrapped in consumer culture.

The intention behind this project is to reach beyond ourselves as individuals to make a difference by creating moments of positive self realization. We're just attempting to make the world a little better.


Intention is the most important aspect of the You Are Beautiful project in its idea of purity. Nothing is sacred. Everything that has a perceived value becomes commodified. We work extremely hard that this message is received as a simple act of kindness, and nothing more.


Advertising elicits a response to buy, where this project elicits a response to do something. The attempt with You Are Beautiful is to create activism instead of consumerism.

You Are Beautiful uses the medium of advertising and commercialization to spread a positive message.
Projects like these make a difference in the world by catching us in the midst of daily life and creating moments of positive self realization."
MUSIC:
I am still listening to Iron & Wine and Bon Iver. Band of Horses' most recent album
Infinite Arms
, and all their previous albums make a close third for me though. My favorite song right now would be Iron & Wine "Swans and the Swimming" which is the first song played on my blog's music player.
PLANS:
My plans for the week include:
1. Reading
Never Let Me Go
2. Seeing
Blue Valentine
3. Seeking new music inspiration
4. Getting my hair cut. My hair isn't quite that long in the front yet, but the its the bangs I am going for.
"Don't copy the behavior and customs of this world, but let
God transform you into a new person by changing the way you think.
Then you will learn to know
God's will for you, which is good and pleasing and perfect."
Romans 12:2
Over and Out